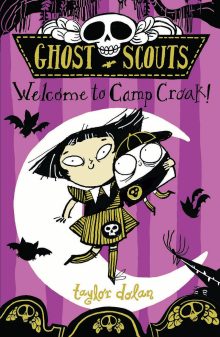 Ghost Scouts: Welcome to Camp Croak!
Taylor Dolan
A fabulously funny series about Lexie Wilde and her summer holidays. She might think that she's heading to the The Happy Hollow Camp for Joyful Boys and Girls for her summer holidays but by accident her Gram signs her up somewhere entirely different, and all sorts of chaos ensues…
But Lexie is made of stern stuff – she becomes part of the Ghoul Scout Summer Camp with relish (along with a few tall tales). But she and her friends (a werewolf, a ghost, a voodoo zombie – need I say more?) soon have a challenge on their hands when Scoutmaster Euphemia Vile appears, determined to make these gruesome scouts behave in just the way she wants…
With wild and wonderful illustrations by a hugely exciting debut author and artist, Lexie Wilde's adventures will appeal to all!
'This is a wild and wicked experience. It will pick you up with one hand and tickle you with the other, whilst dragging you through page after page of horrible but hilarious morsels. It's dark humour for adventurous beginners – and like a bungee jump into the bayou, it'll dip your head deep into a supernatural soup of a rather silly temperature.' – SNORT! blog
'With its cast of ghoulish but gorgeous characters, a feisty feminist heroine, a story steeped in friendship, fun, kindness and daring to be different, and Dolan's all-action, two-colour illustrations throughout, this is the perfect read for all young mischief- makers.' – Lancashire Post