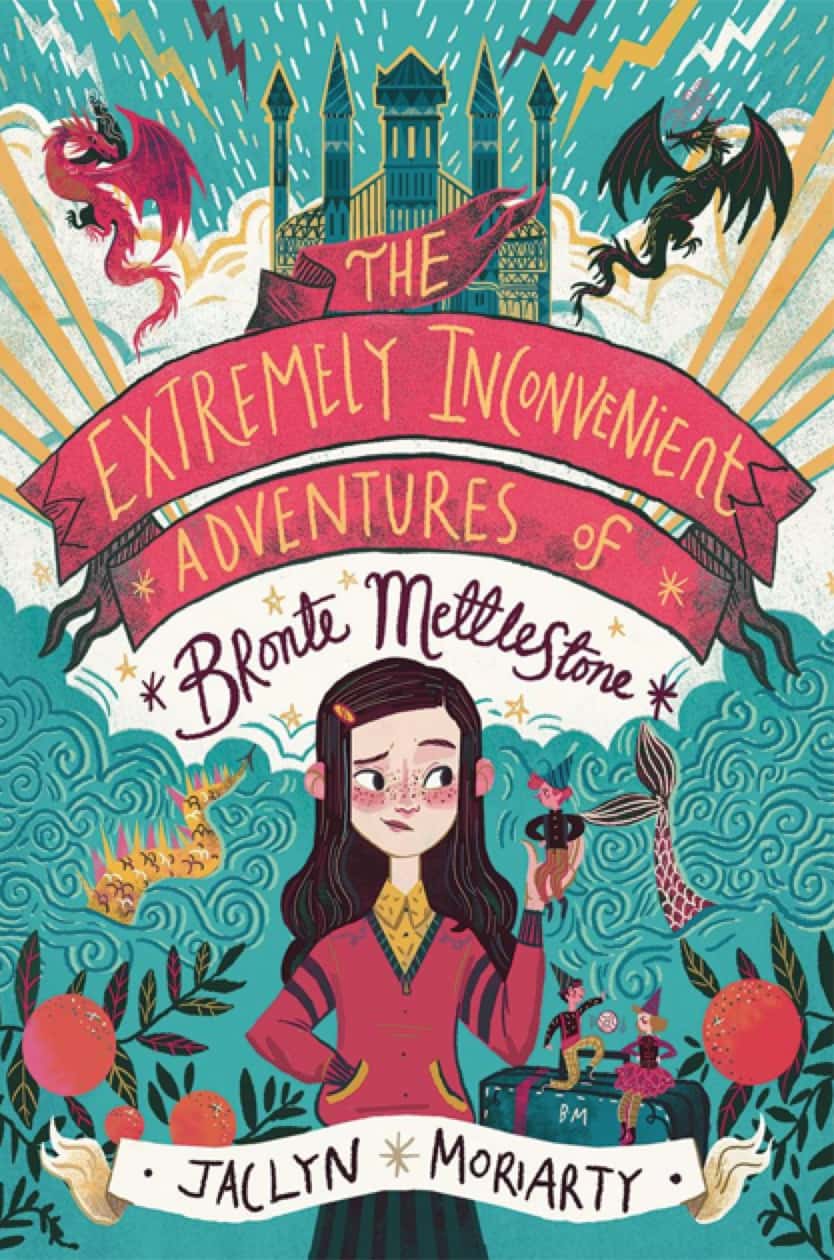 The Extremely Inconvenient Adventures of Bronte Mettlestone
Jaclyn Moriarty
Included in BookTrust's 100 Best Children's Books of 2020!
In the Week Junior's Top Five Books with Exciting Quests!
'For lovers of Lemony Snicket' the i newspaper
'A whirligig of a fantasy' The Telegraph
Bronte Mettlestone is ten years old when she receives a telegram that her parents have been killed by pirates.
This doesn't bother her much: she has been raised by her Aunt Isabelle and the Butler, and has spent a pleasant childhood of afternoon teas and riding lessons. Now, however, her parents have left detailed instructions for Bronte in their will – instructions that have been reinforced with faery cross-stitch – so if she doesn't complete them, terrible things will happen. She must travel through the kingdoms, delivering gifts to her ten extraordinary and eccentric aunts: one who owns an orange orchard, another who specializes in dragon care, a pair of aunts who captain a cruise ship, and a former rock star aunt who is the reigning monarch of a small kingdom.
But as she travels from aunt to aunt, Bronte suspects there might be more to this journey than the simple delivery of treasure.
HOW TO READ: Make a large pot of tea (preferably cloudberry), light a log fire, and settle down on a comfy sofa to read all about about Bronte Mettlestone and her extraordinary (and sometimes inconvenient) adventures.
Praise for THE EXTREMELY INCONVENIENT ADVENTURES OF BRONTE METTLESTONE
With its storytelling aplomb, humor, imagination, and many twists and turns, this novel places Moriarty…firmly in Diana Wynne Jones territory. Readers will want to begin rereading this spellbinder just as soon as they finish it, to find all the clues and connections and coincidences Moriarty drops and weaves and reconciles throughout.

The Horn Book *Starred Review*
Jaclyn Moriarty charms, thrills and delights in this delightfully unpredictable, unique and modern novel, while also brilliantly evoking echoes of classic children's authors like Diana Wynne Jones and Joan Aiken.

Garth Nix, bestselling author
An absolute sparkling delight of a story! Whisperers, water sprites, spellbinders and faery-cross stitch; this book is brimming with bright new magic…just perfect.

Karen Foxlee
Have I led you wrong about middle grade fantasy in the past? THE EXTREMELY INCONVENIENT ADVENTURES OF BRONTE METTLESTONE brings all the strengths you've praised in Jaci Moriarty's fiction – her brilliant plotting, her wit, her delicious use of magic, and most of all, her uncanny ability to turn a group of characters into a group of friends – I think this time she brings those strengths to the group that will most appreciate them: middle grade readers.

Arthur Levine, editor of BRONTE METTLESTONE and the HARRY POTTER series, in a letter to booksellers
Bronte Mettlestone is hilarious. If you happen to know children who … enjoy aunts, dragons, adventure, making friends, questioning norms, being a person… please put this book in their hands immediately. I also think it would be an excellent one to read aloud together, in which case you could extend the age range a bit younger – say to a curious seven.

The Spinoff